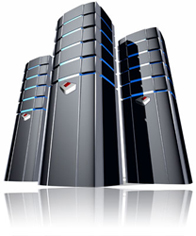 At the basic foundation of your hosted computing environment, dedicated servers are the most vital component of your IT solution. A dedicated server is completely devoted to your company's sole needs, and not shared with another customer, so you enjoy more performance and flexibility than a shared hosting solution.
Every dedicated server we offer has tremendous capacity to be upgraded and adjusted to fit your business's exact requirements and its own unique needs.
Dedicated Servers: Linux or Windows
In addition to flexibility in dedicated server hardware, we are equally as flexible with our software offerings. Our Linux Dedicated servers can have CentOS, Gentoos, Unbuntu, RedHat, Debian or FreeBSD installed. Control panels such as cPanel or Direct Admin are easily added to any dedicated server.
If you are a fan of Windows, we offer this OS, as well. Plus, you can also include any version of MSSQL available. Generally adding Windows OS to one of our dedicated servers will add about $10-$20 per month to your cost.
Each of our dedicated servers is supported 24/7/365 by our Network Operation Center (NOC) technicians. This means when the time comes for you to need a helping hand, you have someone who is willing and able to identify and correct the problem … quickly, professionally and expertly.
Intel Dual-Core Atom


1GB/250GB
Number of cores: 2
Number of CPUs: 1
CPU SPEED: 1.6 Ghz
Base Price: $54.00/month
Xeon E3-1230


16GB/250GB
Number of cores: 4
Number of CPUs: 1
CPU SPEED: 3.2 Ghz
Base Price: $149.00/month
2 x Six-Core E5-2620


8GB/250GB
Number of cores: 6
Number of CPUs: 2
CPU SPEED: 2 Ghz
Base Price: $325.00/month